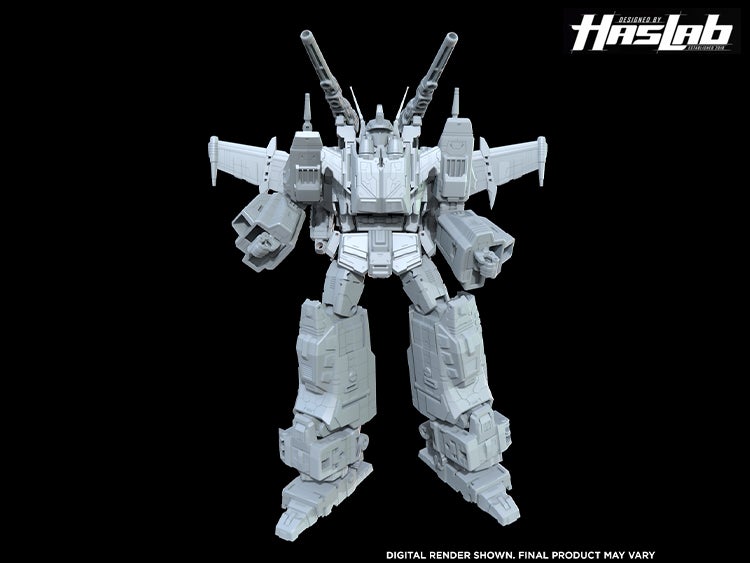 Victory Saber
Hasbro Haslab Transformers Premium Actiefiguur
Supreme Commander van de Autobots. Leider van de Galactic Defence Force. De grootste zwaardvechter in het universum. De sterren staan op een lijn voor het laatste Transformers HasLab project: Victory Saber.
PROJECT EINDIGT IN...
0
0
:
WEKEN
0
0
:
DAGEN
0
0
:
UREN
0
0
:
MINUTEN
0
0
:
SECONDEN
DE ONTWIKKELING VAN DE DEFENDER OF JUSTICE
Dit project is een grote 'eerste keer' voor de Transformers lijn. Deze HasLab project breidt uit naar de Japanse anime kant van Transformers die nooit eerder naar Europa is gekomen. Met jouw hulp, kunnen we dit eindelijk werkelijkheid maken.
Wie beter om het eerste Japanse canon Transformers figuur van Hasbro te zijn dan Autobot Star Saber? In de animatie, verdedigen Star Saber en zijn Autobot bemanning het universum tegen de kwaadaardige Decepticons. Buiten Transformers Masterpiece, heeft Star Saber geen actiefiguur gehad sinds 1989. Nu kan de onverschrokken leider van de Autobots naar deze kant van de melkweg reizen als een actiefiguur geïnspireerd door het iconische personage uit de animatieserie, compleet met 200 deco ops.
We hebben 11.000 backers nodig om dit project volledig te financieren.
DE HELDHAFTIGE FEATURES
Dit HasLab project markeert vele primeurs voor Transformers. Behalve dat dit Hasbro's eerste Japanse canon Transformers-figuur is, is dit ook de eerste Brainmaster die ooit door Hasbro is ontwikkeld.
We verkennen ook nieuwe innovatie en articulatie voor Transformers die nog nooit eerder zijn gedaan. De Autobot Star Saber-figuur heeft een vlindergewricht en de Victory Leo-figuur heeft extra articulatie, waardoor beide figuren zeer goed te plaatsen zijn voor een verscheidenheid aan displayopties. De grootste zwaardvechter in het universum komt ook met het machtige Sword of Justice.
"BATTLE UP!"
Het is geen geheim dat Star Saber in de tekenfilmserie een aantal behoorlijk geweldige converting modes heeft. Het team zorgde ervoor dat dit HasLab project de ultieme animatie nauwkeurigheid heeft, waardig aan zijn heldhaftige erfenis.
Het Brain of Courage Brainmaster figuur past in de borst van de Autobot Saber figuur, waardoor het gezicht van de grotere figuur verschijnt. De Autobot Saber figuur verandert dan in de Victory Jet mode. Combineer de Victory Jet mode met de V-Star jet, converteer naar robot mode, en onthul Autobot Star Saber! Plus, de Victory Leo figuur kan worden omgebouwd tussen robot en leeuw mode.
Maar daar is het niet bij gebleven. In Transformers: Victory Episode 30: "The Tide is Turned! The Ultimate Weapon, the Victory Unification," moeten Autobot Star Saber en Victory Leo een einde maken aan de bedreigingen van Decepticon leider Deathsaurus, door samen te smelten en de machtige Victory Saber te vormen. Met dit HasLab project, kun je de scène nabootsen! Combineer Victory Leo en Autobot Star Saber figuren om de ontzagwekkende kracht van Victory Saber te ontketenen!
Met alle speel- en displaymogelijkheden is dit een unieke toevoeging aan je Transformers-collectie.
ALGEMENE VOORWAARDEN & FAQs
Wanneer u een Crowd-Funded Product steunt, verplicht u zich om het Crowd-Funded Product aan te schaffen dat alleen zal worden uitgevoerd als het minimum aantal backings voor het project wordt gehaald tijdens de Project Backing Periode. Elk Crowd-Funded Product heeft zijn eigen looptijd wanneer u het Crowd-Funded Product kunt steunen, elk een "Project Backing Periode". Zodra het minimum aantal backings is bereikt, wordt uw backing een "Order" en wordt uw betaling verzameld aan het einde van de Project Backing Periode, dan wordt het Crowd-Funded Product gemaakt en uiteindelijk verzonden.
U geeft uw betalingsgegevens op wanneer u een door Crowd-Funded Product support, maar u wordt op dat moment niet in rekening gebracht. Het wordt alleen in rekening gebracht als het project het minimale backingdoel bereikt tijdens de Project Backing Periode. Het exacte bedrag dat u steunt is het bedrag dat de Hut Group zal incasseren. Als het project het minimale backingdoel niet heeft bereikt tijdens de Project Backing Periode, wordt dit niet in rekening gebracht, er wordt geen geld geïncasseerd en er wordt niet van eigenaar gewisseld. Controleer de hoofdpagina van het door u gesteunde Crowd-Funded Product om te zien of het minimale inzetdoel is bereikt.
In sommige gevallen zullen wij de kosten op uw kaart reserveren. De Hut Group en haar betalingspartners kunnen toestemming geven of een bedrag op uw betaalmethode reserveren voor elk bedrag tot aan het volledige backing-bedrag, op elk moment tussen uw backing en de inning van het geld. Er wordt geen betaling gedaan voordat het Project Backing Window is beëindigd.
Wij verzenden momenteel naar alle UK & Europese adressen. Let op: we kunnen op dit moment niet naar een ander land verzenden. Als u wijzigingen moet aanbrengen aan uw verzendadres nadat u hebt gekocht, neem dan contact op met ons Customer Care Team via uw account.
U kunt uw backing op elk moment voor de voltooiing van de Project Backing Periode op 7 december annuleren, door het standaard annuleringsproces te volgen via uw account, of door contact op te nemen met onze klantenservice via uw account.

Het volledige bedrag wordt geïncasseerd op 8 januari 2022 zodra het Crowd Fund Project is geëindigd. Als u uw bestelling moet annuleren, moet u dit doen binnen 30 dagen na het voltooien van de toepasselijke Project Backing Periode door contact op te nemen met ons Customer Service Centre via uw account.
Na deze 30 dagen bent u NIET meer in de mogelijkheid om uw order te annuleren.
Wij behouden ons het recht voor om uw steun te allen tijde naar eigen goeddunken in te trekken, ook als gevolg van een feitelijke of vermoede overtreding van deze Voorwaarden.
Als uw product beschadigd aankomt als gevolg van het transport, kunt u binnen 30 dagen na levering een verzoek indienen voor een vervanging of een terugbetaling door contact met ons op te nemen via uw account. Wij kunnen geen enkel geopend artikel voor terugzending of vervanging aanvaarden, tenzij het beschadigd is aangekomen. U bent verantwoordelijk voor het betalen van de verzendkosten voor de retourzending. Alle in aanmerking komende terugbetalingen worden gedaan in de originele vorm van betaling. Als uw product beschadigd aankomt als gevolg van het transport of niet voldoet aan de specificaties van het product, neem dan contact met ons op.

Als u wijzigingen moet aanbrengen in uw bestelling, bijvoorbeeld in de kaartgegevens of het verzendadres, neem dan contact op met ons Customer Care Team via uw account.