Call of Duty: Modern Warfare 3
Single Player
Prepare yourself for a cinematic thrill-ride as only Call of Duty can deliver. Engage enemy forces in New York, Paris, Berlin and other attack sites across the globe. The world stands on the brink, and Makarov is intent on bringing civilization to its knees. In this darkest hour, are you willing to do what is necessary?
Spec Ops
Special Ops returns with a bevy of additions, including 16 new objective-based missions and the all-new Survival Mode. Team up online, locally, or play solo and face endless waves of attacking enemies throughout every multiplayer map. Purchase and customize your weapons, air support, equipment and abilities to stand up against increasingly difficult forces and land a spot on the leaderboards.
Earn experience and rank up with the newly implemented progression system. The higher the rank, the more weapons, air support, and gear armories you will have available to customize so you can change your tactics on the fly. In addition to the action packed battle for freedom, the cooperative Survival Mode also serves as an effective training tool for competitive multiplayer action.
Multiplayer
Modern Warfare 3 delivers a multiplayer experience that continues to raise the bar by focusing on fast-paced, gun-on-gun combat, along with innovative features that support and enhance a large variety of play-styles. Now, you can truly define your approach with a toolkit more expansive than any previous title.
Killstreaks have been redesigned, new game modes are being introduced, and a gun progression system evolves your weapons over time. Along with new perks, 16 maps and enhanced private match customization, multiplayer has been completely re-balanced and polished into the most intense and rewarding experience possible.
Click Images to Enlarge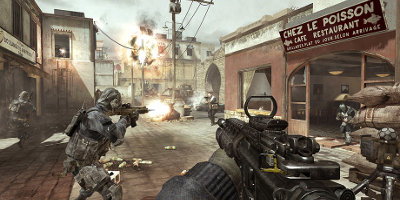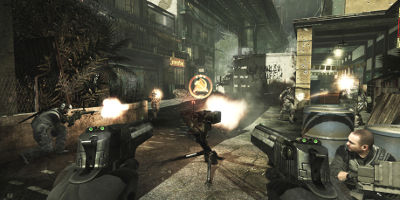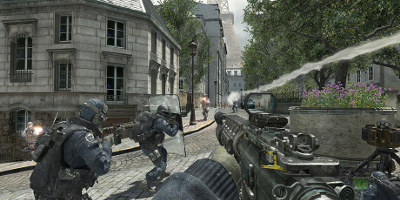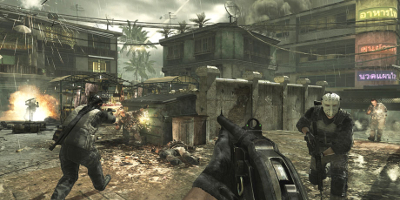 Call of Duty: Modern Warfare 2
The most-anticipated game of the year and the sequel to the best-selling first-person action game of all time, Modern Warfare 2 continues the gripping and heart-racing action as players face off against a new threat dedicated to bringing the world to the brink of collapse.
Call of Duty®: Modern Warfare 2 features for the first time in video games, the musical soundtrack of legendary Academy Award®, Golden Globe® Award, Grammy® Award and Tony winning composer Hans Zimmer. The title picks up immediately following the historic events of Call of Duty® 4: Modern Warfare®, the blockbuster title that earned worldwide critical acclaim, including:
"Most Played Online Video Game" in history, 2009 Guinness World Records. More than 50 Game of the Year awards, including the Console Game of the Year and Overall Game of the Year, 2007, from the Academy of Interactive Arts & Sciences®
Special Ops Co-Operative
An entirely new gameplay mode which supports 2-player co-operative play online that is unique from the single player story campaign.
Special Ops pits players into a gauntlet of time-trial and objective-based missions. Rank-up as players unlock new Special Ops missions, each more difficult. Missions include highlights from the single player campaign, fan favorites from Call of Duty 4: Modern Warfare and all new, exclusive missions.
Multiplayer Reinvented
Setting a new bar for online multiplayer, Modern Warfare 2 multiplayer delivers new capabilities, customization, gamestates and modes, including: Create-a-Class Evolved
Secondary Weapons - Machine Pistols, Shotguns, Handguns, Launchers
Riot Shields
Equipment - Throwing Knives, Blast Shield, Tactical Insertion
Perk Upgrades
Bling (Dual Attachments)
Customizable Killstreaks - AC130, Sentry Gun, Predator Missile, Counter-UAV, Care Package
Accolades (Post match reports)
Click Images to Enlarge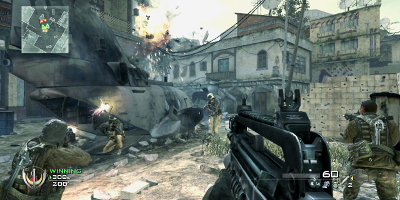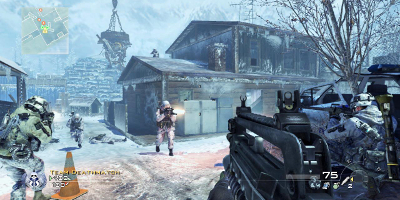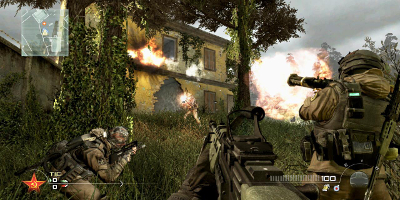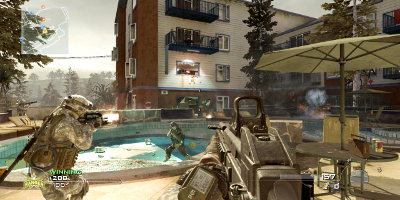 Call of Duty: Modern Warfare
The new action-thriller from the award-winning team at Infinity Ward, the creators of the Call of Duty® series, delivers the most intense and cinematic action experience ever. Call of Duty 4: Modern Warfare arms gamers with an arsenal of advanced and powerful modern day firepower and transports them to the most treacherous hotspots around the globe to take on a rogue enemy group threatening the world.
As both a U.S Marine and British S.A.S. soldier fighting through an unfolding story full of twists and turns, players use sophisticated technology, superior firepower and coordinated land and air strikes on a battlefield where speed, accuracy and communication are essential to victory. The epic title also delivers an added depth of multiplayer action providing online fans an all-new community of persistence, addictive and customizable gameplay.
Authentic Advanced Weaponry
Featuring an available arsenal of more than 70 new and authentic weapons and gear from assault rifles with laser sites, claymore mines, .50 caliber sniper rifles, and M-249 SAW machine guns. With accessories like night-vision goggles and ghillie suits, for maximum concealment, Call of Duty 4: Modern Warfare has players locked and loaded to accomplish the mission.
Coordinated Assault and Support
Delivering the most visceral action thriller ever, the title covers modern battle from the soldier to the satellite, where the need for air support is critical to success. The adrenaline rush deployment enlists gamers to fast-rope from tactical helicopters, ride in an armada of attack choppers, utilize jets to remove enemy strongholds and even engage hostiles from thousands of feet above the ground inside a state of the art aerial gunship.
Cinematic Quality Graphics and Sound
Featuring stunning next-generation graphics, players will be drawn into the cinematic intensity of Call of Duty 4: Modern Warfare. Amazing special effects, including realistic depth of field, rim-lighting, character self-shadowing, texture streaming as well as physics-enabled effects will enlist players into the most photo-realistic gaming experience. Combine the lifelike graphics and the realistic battle chatter with the Call of Duty award-winning sound design and players will face battle as they have never before.
Unparalleled Depth to Multiplayer
Multiplayer builds from the success of Call of Duty 2 delivering a persistent online experience for greater community interaction. Featuring create-a-class options allowing players to customize gear that is best suited for play, to experience points enabling unlockables and perks, all the way to matchmaking and leaderboards for the latest in tracking, Call of Duty 4: Modern Warfare's multiplayer is set to deliver easily accessible and addictive online play for all.
Click Images to Enlarge